FIC Report (Abia State) – The Vice Chancellor, Abia State University Uturu, Prof. Onyemachi Ogbulu has scored his two year administration high in terms of infrastructural development among others saying, the Institution under his watch has recorded a lot in developmental projects.
Prof. Ogbulu who is the 8th Substantive Vice Chancellor of ABSU stated this while briefing Journalists during the 29th Pre -Convocation Press Briefing at the Conference Hall of his Office.
He noted that within the two years on the saddle, the University has recorded substantial achievements in Academic excellence, peace and adequate security within the University community which has promoted effective academic activities, in addition to generation of Internal Revenue for the institution to function effectively.
The Vice Chancellor listed  some of the infrastructural projects completed under his tenure to include; the Academic Staff Complex, New Department of Optometry Block, Housing Offices for former Vice Chancellors of the University and some distinguished professors.
Other projects according to him include, the completion of the Medical Center, Information Communication Center and University Auditorium of the Osisioma Aba Campus as well as the installation of 500kva transformer and completion of the Ring road at the Umuahia Campus of ABSU.
He revealed that the completed projects would be commissioned by Governor Okezie Ikpeazu during the forthcoming 29th Convocation Ceremony of the Institution.
Ogbulu further stated that the Institution under his administration has been able to set key processes and procedures to drive internally generated revenue for the University adding the effort is gradually yielding dividends through public and private partnership in key areas.
According to the Vice Chancellor, the Institution has successfully blocked all revenue leakages as well as engaged in prudent management of scarce resource in  keeping the Institution afloat inspite of the present state of educational system in Nigeria.
He, however, stated that apart from the period of ASUU Strike which saw the entire University was shut down without any in coming revenue , while his administration has been able to pay  salaries regularly for staff as and when due, and offsetting of salaries inherited during the Covid-19 period among others.
"We have not lagged behind in harnessing sound academics and scholars in diverse disciplines and their contributions to teaching, learning and community development which has made Abia State University stand out in the comity of universities in the South East and Nigeria at large.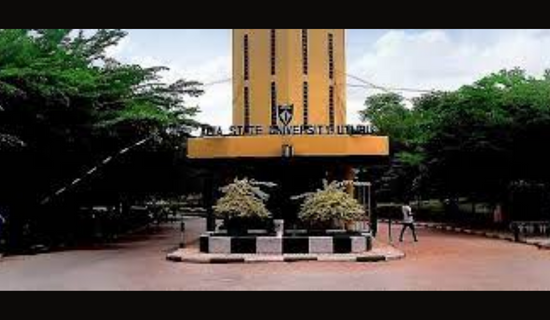 The Vice Chancellor, Abia State University Uturu, Prof. Onyemachi Ogbulu, expressed worry over the turbulent period the education sector in Nigeria is facing
 Ogbulu, said the situation is worrisome and stated that "it will be double jeopardy to allow the frightening insecurity challenges swallow up our universities struggling to survive in these times.
"It is sad to observe how we have allowed and continued to allow the systematic collapse of education in Nigeria.
"Some who, perhaps, attended universities in the 1980s or early 90s will recall with nostalgia the good old days even though with their own challenges.
"But this is not anymore and we all may have inadvertently contributed to the failure of the system in one way or the other.
"If it was not for the Press, it might have been through those you voted for and supported to be in government to make policies in matters affecting education.¡
Therefore, since we are culpable, somehow, we must also collectively come together to revive and resuscitate the sector."
The VC further advised, "We must refrain from promoting stories that engender strife and/or destabilise the system. We must instead, support meaningful policies and efforts that will bring life back to our education system.
"The forthcoming election provides us with yet another opportunity to make a wise decision."
Ogbulu disclosed that a total of 3,724 graduates would be graduating out of which 19 are first class Graduands.1160 Second Class Honours (Upper Division) ,2004 Second class Honours( lower Division, 110 Third Class Honours 110, 3 Pass, 101 Medicine and Surgery UNCLASSIFIED, 68 Optometry UNCLASSIFIED.
Higher Degrees
77 Doctor of Philosophy
101 Masters
44 Postgraduate Diploma
He further disclosed that his administration was systematically liquidating salary arrears of lecturers occasioned by COVID-19 lockdown and the recent sympathy strike by the lecturers.
He further affirmed that the school's position on fee increase still stands and will be implemented adding however "some school fees will be reduced."
He disclosed that eminent Nigerians, including Governor Nyesom Wike of Rivers State, Chief Mike Ozekhome (SAN), Dr. Reginald Stanley, Apostle (Mrs) Folurunsho Alakija and Chief Aigboji Aig-Imoukhuade would be honoured.
"ABSU has continued to blaze the trail in its academic performances at both local and international levels. Our graduates have maintained the same spirit of excellence of the University in various fields of endeavor in medicine, law, sciences, arts and other areas.
"ABSU is one of the best universities in Nigeria. Just recently, two of our graduates from Law School were among those that made first class at the Nigeria Law School",Prof Ogbulu said.
He used the opportunity to congratulate all graduands and awardees of the 29th convocation ceremony of the University and assured students of a sustained conducive environment for the completion of the 2021/2022 academic session.